Compliments
When something's gone really well or you've had a great service, let us know. We'll pass on your compliment to the individual staff member or team to tell them how pleased you are.
You can submit a compliment through MySalix.
Complaints
Sometimes things don't go quite right or as well as they should. If you're unhappy with any aspect of our services, please tell us so we can put things right.
If you're dissatisfied with something and make a complaint, we aim to deal with it there and then if we can.
If this is not possible, our complaints process applies.
You can make a complaint through MySalix.
First step
We'll acknowledge receipt of your complaint within 2 working days.
Investigation
We'll investigate the complaint and then discuss with you how to resolve the issue. We aim to provide a full written response within 10 working days.
Review
If you're not happy with our decision, you can ask for a review of how your complaint was handled. You have 10 days from receiving the decision to do this.
A senior manager will review our original decision. They may choose to take further action. We aim to let you know the review outcome within 15 working days of your request.
The Housing Ombudsman
If you're still not happy with our response you can appeal to the Housing Ombudsman Service.
Salix Homes is a member of the Housing Ombudsman Service. This is a free, independent complaint resolution service.
A copy of our complaints self-assessment is available for download. This shows how well we think we are handling our complaints. We send this to the Ombudsman annually.
Social housing issue? Know your rights, know how to complain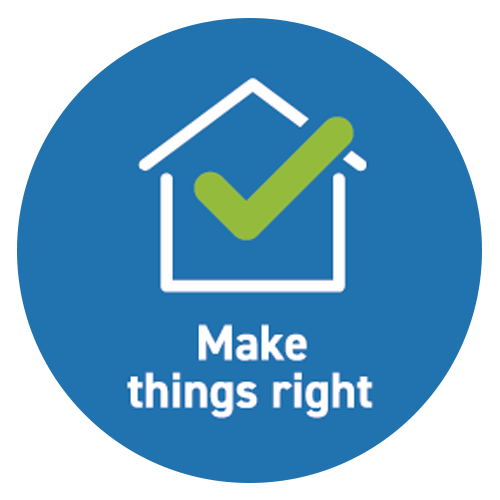 Everyone deserves a home that is safe, secure, and well maintained. If you live in social housing, your landlord is responsible for fixing issues including damp and mould, leaks, broken locks or changes you need to your home if you're disabled. They can also help with anti-social behaviour, like noisy neighbours.
Know the steps to get an issue fixed.
Report it to your landlord. Then, if it is not fixed…
Complain through your landlord's complaint process, and if you're not happy with the final response from your landlord…
Escalate your complaint to the Housing Ombudsman.
Advice about contacting the Housing Ombudsman
The Housing Ombudsman is impartial, will investigate fairly and can order your landlord to take action.
Once the Housing Ombudsman has ruled against a landlord, they must show they are taking action within 6-8 weeks.
Know your rights:
Some recent compliments we've received from our customers…
"Thank you very much!"
I would just like to say a massive thank you to everyone at Salix. From repairs that needed to be sorted to providing me with all the information to be able to live in a lovely, warm, comfortable environment.
Thank you very much.
"Proud to be a Salix Homes tenant"
Thank you for the outstanding support and service I had throughout resolving my rent account issue and to the team for the marvellous handling of the matter.
I'm always proud to be a Salix Homes tenant.
"Great customer service from Salix Homes"
Very nice guy, was helpful friendly and quick to check out the repair he was sent to do.
He cleared the bath and told me he was going to send for the drainage team as he thought the problem may occur again.
"Amazing" Night Service Team
Just wanted to say a massive thank you to the Night Service Team who got our fobs sorted today.
You guys are amazing!

Contact us
How to get in touch
Contact us

Manage my home
All the information you need about your home and tenancy - repairs, payments, safety and more
Manage my home

How we can help you
An extra helping hand to our customers and local communities
How we can help you