How do I know the operative works for Salix Homes?
All our operatives carry an identification card which they will show you if asked. This includes their name, job and a photograph along with our logo. We recommend checking this before you let anyone in your home.
If you have any doubts about letting someone into your home call us immediately on 0800 218 2000 so that we can confirm they are who they say they are, including the subcontractors we work with who will carry their own identification cards.
We can also set up a password if this would help you feel safer when we need to work in your home.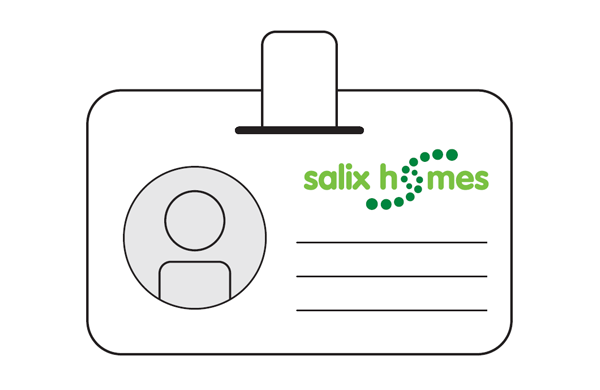 Keeping you safe
If you have a gas supply, our partner contractor will visit your home once a year to check it is safe.
We will also visit you to conduct an electrical test on your home every five years.
During these visits we will also check your carbon monoxide, fire, smoke and heat alarms. It is a condition of your tenancy to allow for the these tests to be conducted.
If you live in a high-rise apartment block, we have a team of Property Safety Officers who will regularly visit the block and check items such as fire doors to make sure our buildings are safe.
Fire prevention
Visit our fire safety information pages for full information on what we do to ensure the safety of our customers and homes, and advice on how you can help minimise the risks of fire.
You can help keep yourself and neighbours safe by preventing fires. If you are having a BBQ in your back garden ensure it is away from fences, sheds and other structures which could easily catch fire. Greater Manchester Fire and Rescue Service have safety advice you should consider before commencing your BBQ – visit their website for more information.
Keep your home in an orderly condition as much as possible. If you do have a large amount of possessions keep yourself safe from fire by following this advice:
Keep cooking areas clear of possessions and do not use hobs or ovens to store items
Don't store items on or close to heaters, lamps or other electrical equipment
Replace the batteries in your smoke alarm if it alerts you to do so
Do not stack possessions too high that they could become unstable and fall over blocking your escape
Sort through mail and newspapers when you receive them and recycle regularly – these items can easily catch fire
If you smoke use a proper ashtray and keep it on a flat, stable surface and never leave lit cigarettes unattended
Place candles and tea lights in heat resistant holders that hold them firmly. Keep them away from anything that can catch fire and never leave them unattended.
Stop rodents in their tracks
If you have a garden, please maintain your grass and hedges to prevent easy nesting for rats and mice. Rats can cause a lot of damage and destruction to your personal possessions and can even chew through electricity cables.